Great news! Unicharm is sponsoring our cat litter exclusively across all outlets from 1st Mar 2020. With multiple cats boarding at the hotel at any given moment, it is really important to us that Nekoya remains a sanitary, comfortable, and safe space not just for our feline charges, but also visitors (of the human variety!) and our cat caretakers. As such, we wanted to use cat litter that truly does the job of controlling odour and has minimal tracking — and the Unicharm cat litter system was all that and more.
If this is your first time hearing of this brand of cat litters, here's a little background:
What is Unicharm?
Unicharm is a Japanese company that manufactures sanitary items but they also make pet diapers, cat litter and cat litter bins! Their litter boxes are one of the most innovative products to enter the pet industry a few years ago. Till today, many cat parents have sworn by this litter box and never looked back!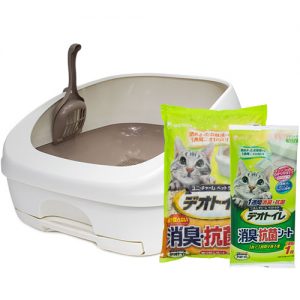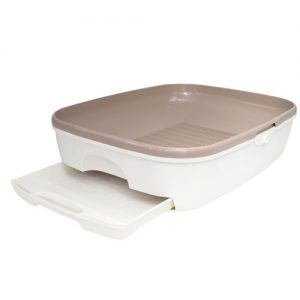 What makes their litter box so different from others on the market is its two-tiered design. The top layer is where the cat litter goes! Unicharm's cat litter is a unique blend of zeolite and silica. Zeolite, a type of microporous, naturally occurring mineral, removes ammonia and ammonium which are substances that give urine its foul odour. When your cat pees in her litter box, the zeolite cat litter removes the stink of cat pee and what trickles down into the bottom tier would be an odourless liquid that is soaked up by a pet sheet.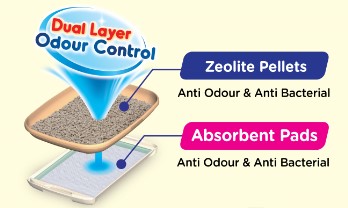 And since the pet sheet is light-coloured, it makes monitoring your cat's urinary health so much easier. Oh, and did we mention that these zeolite and silica pellets are actually weighted? To cat parents who have always been troubled by your cat tracking litter all over your freshly cleaned home, there will be no more of that with Unicharm cat litter!
Did we pique your interest?
We have to admit — the Unicharm cat litter system isn't exactly the cheapest option on the market. The litter bin itself starts from $70. But a single bag of 2L ($30) zeolite litter promises to last a month in a single cat household. What's more, pet sheets ($18), which you'll only need to change once a month, come in a pack of ten so they can last you for a few months! Given the mileage of this litter, you'll notice that you do save a considerable amount of money!
If your cat is already boarding with us or if you're intending to have her board with us soon, this is a good chance to let your cat experience the Unicharm cat litter system without committing to one of your own!
We have a Unicharm Deo-Toilet display corner set up at our Paya Lebar outlet so if you'd like, you could even head down for a visit to inquire more about the cat litter that we're currently using 🙂
If you're interested in reading a full-length review of the Unicharm cat litter system, you may do so here:
A New Age of Litter Scooping with UniCharm Cat Litter Bins
Where to purchase Unicharm Litter Bins
You may purchase it in-store at any of our Nekoya outlets! Alternatively, you can also place your order online at Nekojam. Right now they're having a promotion where you get to enjoy 50% off a month's supply of refill pellets and pee sheets with any purchase of Unicharm cat litter bins