Preparing for the Cat's Trip
The time for your trip is almost here! Once you've decided that cat boarding is for you and your cat, and you've found a cat boarding hotel to care for kitty in your absence, it's time to pack the bags with all the things your cat will need for its time away from home.
Is Cat Boarding in Singapore Really Stressful for Your Cat?
The most common reason why cat owners prefer not to use cat boarding services stems mostly from the misconception that cat boarding is a very stressful experience for cats. This does not have to be the case. Many of our feline guests who enter the hotel end up very reluctant to check themselves out. Making cat boarding a pleasant experience can be relatively easy, if you play your part in ensuring your cat's bag is adequately packed with all the necessities it will need for its stay.
Things to Pack for Cat Boarding:
At the Nekoya Cat Boarding Hotel, we classify our list of things to bring into three categories:
1. Edible Items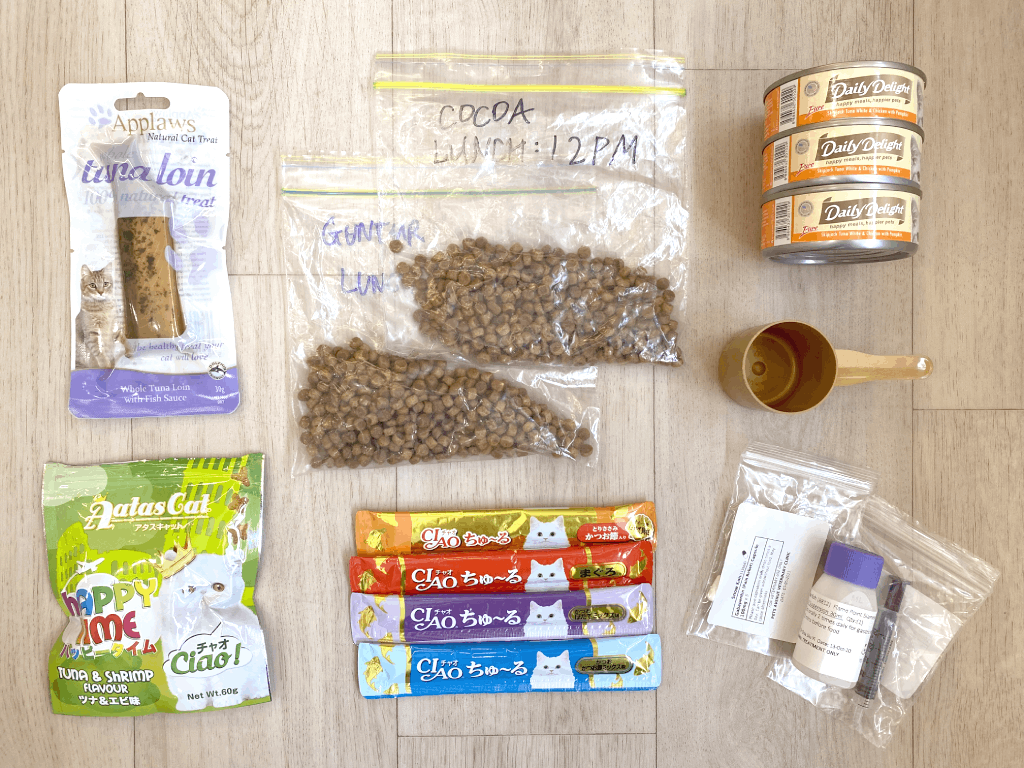 The most common question we receive when tending to enquiries from cat owners in Singapore is
"Will you provide cat food for my cat?"
While other cat boarding facilities may provide free food for the duration of your cat's stay, we strongly recommend that our guests pack their own.
The reason for this is because cats are creatures of habit. When you leave for a vacation, you should expect your cat to experience a certain degree of stress, no matter how insignificant or unnoticeable. This holds true regardless of whether you choose to send your cat for boarding, or hire a cat sitter to come to your house. Stress can be induced in many ways, such as through fear, but is most certainly caused when there is a change in a cat's environment. Simply put, we would rather not have your cat deal with the additional stress of having a different food presented to it. After all, wouldn't it be a terrible thing if your cat started rejecting meals in your absence?
Read more: 6 Signs Your Cat is Stressed
Most often, we recommend that you pack the following items for your cat when it boards with us:
Your Cat's Usual Food (Dry, canned, dehydrated or freeze-dried is fine)

Medication and/or Supplements

Treats

Written Feeding Instructions
At the point of check-in, we request written feeding instructions to be dispensed by each cat's owner. This does not have to be prepared beforehand, but can be done if you prefer. This practice allows us to ensure each cat experiences minimal disruption to its feeding routine, portion and preferences.
Each feed for your cat should be packed in an individual ziplock bag or packet, and labelled. A sample below is provided, courtesy of one of our previous guests; Cocoa and Guntur. Their mom has labelled both cat's meals with date and even time specified! This helps the caretakers serve meals accurately and minimises any risk of mix up in food. Canned food do not have to be repackaged, and you may choose to write dates on them if you wish for the caretakers to feed specified flavours on selected dates.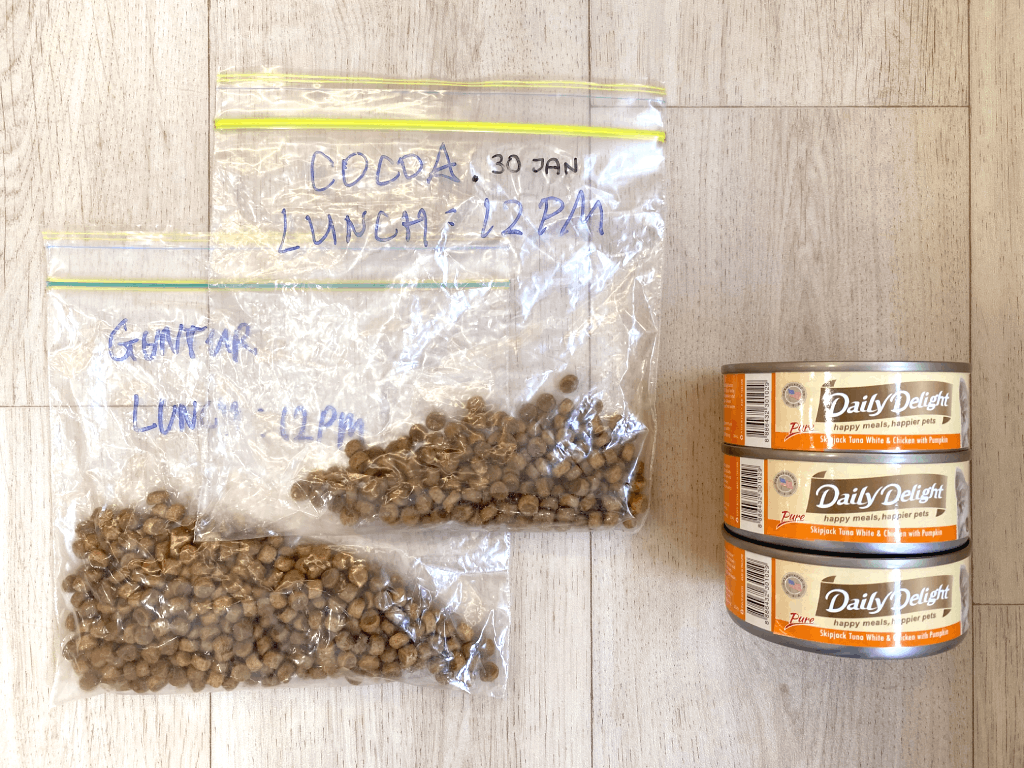 While it may be convenient, we also request that you do not provide us with full containers or bags of your cat's food if your cat is not staying long-term. Doing so is confusing for our caretakers on duty as we sometimes receive similar looking bags of cat food, and if they are unlabelled, your cat may be accidentally fed the wrong meal! However, you may provide 1 additional ziplock pouch labelled 'extras' if there is a chance you would need to extend your stay.
If your cat is staying for over 2 weeks, you may bring the bag of cat food, however, be sure to label the bag clearly and provide a measuring scoop so that our caretakers can dispense the right portion for kitty.

2. Cat Belongings
Besides food, it is also important to furnish your cat's temporary living space. We see a very noticeable difference in the amount of time required for a cat to settle into our cat boarding hotel that has comforting, familiar things, as opposed to one that has absolutely no personal belongings at all. This is also a reason why we encourage personal visitations to the cat boarding hotel of your choice. Not only does this allow for you to examine the facility, it also allows you to have a better understanding of what can or cannot be packed along for your cat's stay.
The most common items we request of each guest for its stay are:
Toys or a Brush

A Clean Blanket

An Old T-Shirt of Yours

A Pipette of Revolution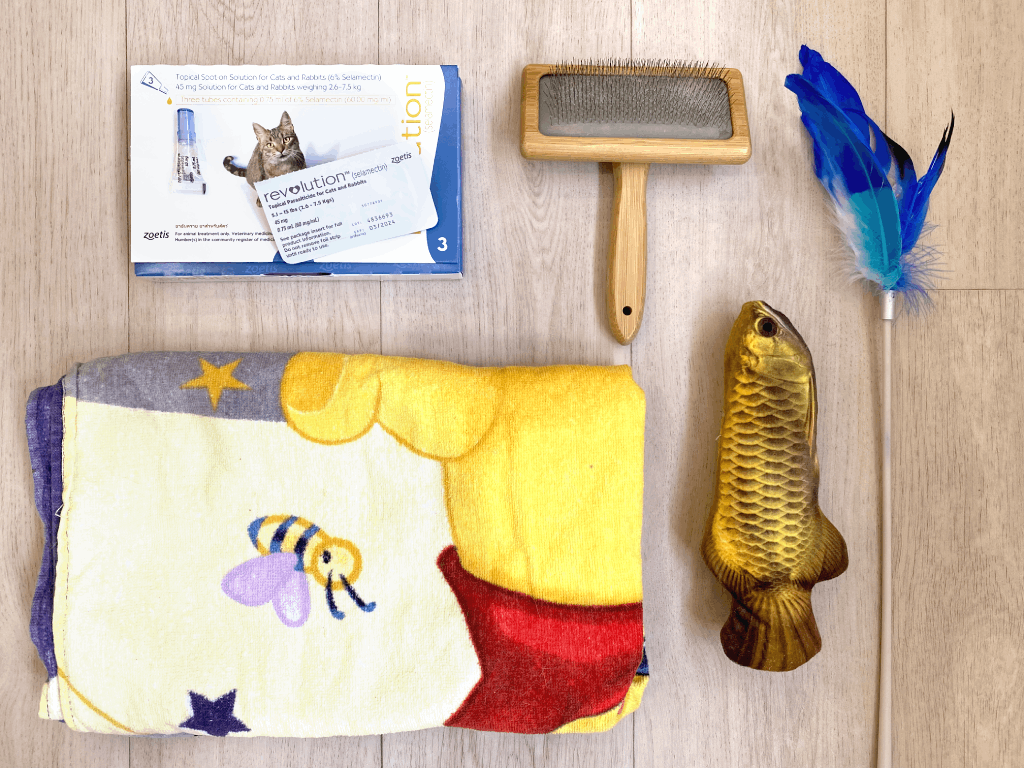 Toys or a brush are useful items that aid our caretakers in forming a relationship with your cat. We do not use shared toys in our cat boarding hotel to prevent the transmission of any viruses or bacteria between cats. A clean blanket or old t-shirt smells like home, and provides comfort for your cat. Cat Scratchers and a simple mat or towels are a must for any boarding facility to ensure a comfortable stay for kitty. We also request that a pipette of Revolution for cats or kittens be provided, and this is administered at check-in on all guests to provide protection against parasites. Owners may either bring their own, or purchase one from the hotel.
3. Personal Records
Vaccination Records

Sterilization Certificate

FIV and FeLV Negative Test Results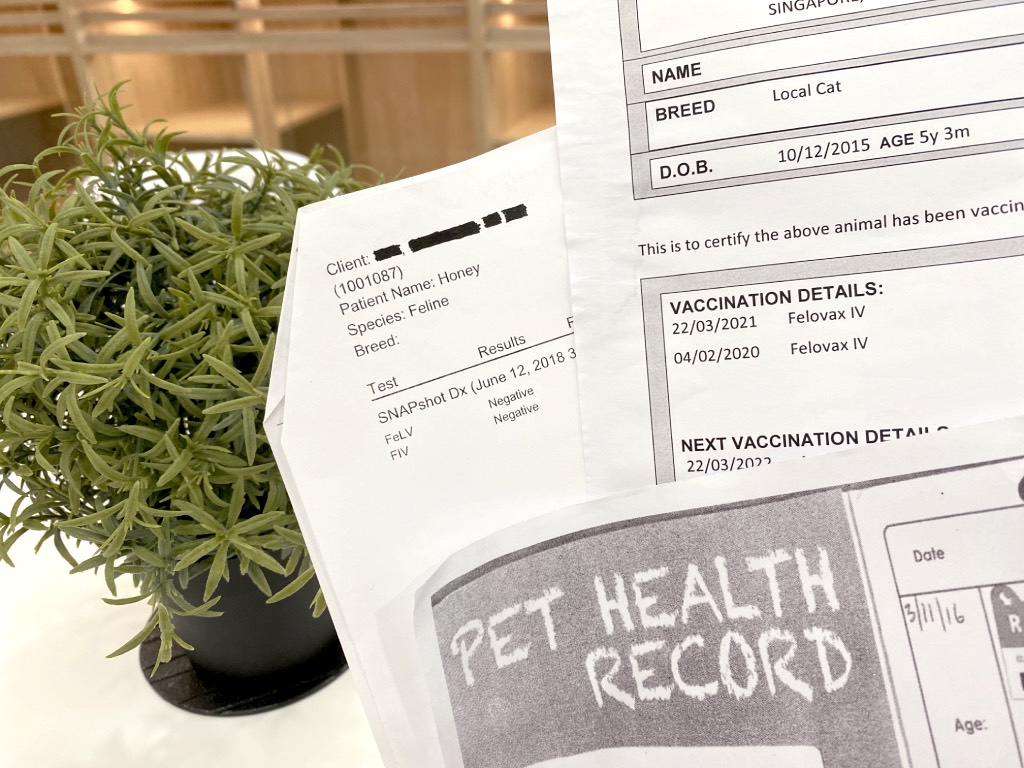 The last thing you want to happen when you're leaving for your vacation is to drop your cat off for cat boarding, only to realize that it is not eligible for its stay. Your personal records are requested for three reasons: Firstly, to ensure that your cat is suitable for cat boarding. Secondly, to ensure that all guests are free from contagious diseases or health conditions, and fairly admitted to our cat boarding hotel. And thirdly, to ensure that identification is on hand if there is a need to identify your cat or yourself as its owner.
Protip: Don't Book Last Minute!
The number one mistake cat owners make when arranging for cat boarding for their cats is booking their reservations too close to their travel dates. We discourage making bookings within 7 days of your departure for two reasons:
Lack of vacancy

Inadequate time for preparation of stay
The main reason we have to turn guests away at the Nekoya Cat Hotel is straightforward — we simply have no more cabins available for lodging. When cat owners call us with enquiries regarding last minute bookings (sometimes within the next 24 hours) we often have no choice but to reject them; simply because we operate at full capacity during peak travel periods.
At the same time, because we often have many cats in our care, it is important that we take the necessary precautions as a business to ensure that our guests are safe during the course of their stay. For this reason, we have unfortunately had to reject cats who were non-compliant with our Boarding Guidelines, which generally state that all cats in our care have to be:
Up to date on their vaccinations and show proof of vaccine validity

Sterilized and show proof of sterilization

In good physical health and have not contracted any illnesses, diseases etc within the past 14 days of lodging

Do not have underlying conditions such as FIV, FeLV and FVR

Free of mites, fleas, ticks and other parasites
While most home boarding facilities for cats in Singapore do not request proof of their guests' vaccinations and sterilization, it is important that your cat is protected against disease when exiting its familiar home environment.
Many cat owners tout finding a reliable cat boarding solution as the number #1 challenge to them making plans for a vacation. With these simple tips and guidelines, we hope that you won't hesitate leaving the country because you worry about kitty's wellbeing! With adequate preparation and some attention to detail, your cat should adjust just fine.