[First published: 9 Jan 2017, Last Updated 14 Feb 2022]
The holidays are upon us, and most of you have planned, or are planning a trip overseas! It could be for an urgent business trip, family trip, or a much needed private getaway. Some cat owners believe that it's fine to leave their cats unattended alone at home for just a day or two, but believe us when we say they can't be any more wrong.
Unlike their canine counterparts, cats may not need to be walked. But they still require fresh food and water on a daily basis, as well as a clean litter box. Furthermore, it's also dangerous to leave your cat unattended for extended hours at a time. Although you may think you've cat-proofed your home, it is still possible for your feline friend to get into a ton of mischief while you're away. Electrical failure, minor medical problems or even accidental injury through playing with something as harmless as a rubber band. And while the chance that something dangerous will happen is slim, it's a risk we'd still rather not take.
Benefits of Cat Boarding
Cats are creatures of routine. You may have noticed that your cat instinctively knows when you'll be home, and when meal time is. If there's one thing that gets your cat upset, it's having its routine disrupted. Boarding your cat means that your pet will be in the hands of a trusted cat whisperer at the Nekoya cat hotel, where we take pride in keeping our boarding facilities clean and pleasant for our feline guests. While most cat owners would think to hire a cat sitter, unless it's someone your cat is familiar with, it's highly likely that the level of anxiety caused to your cat will be all the more heightened by the presence of a complete stranger, in addition to the disruption to its regular routine at home.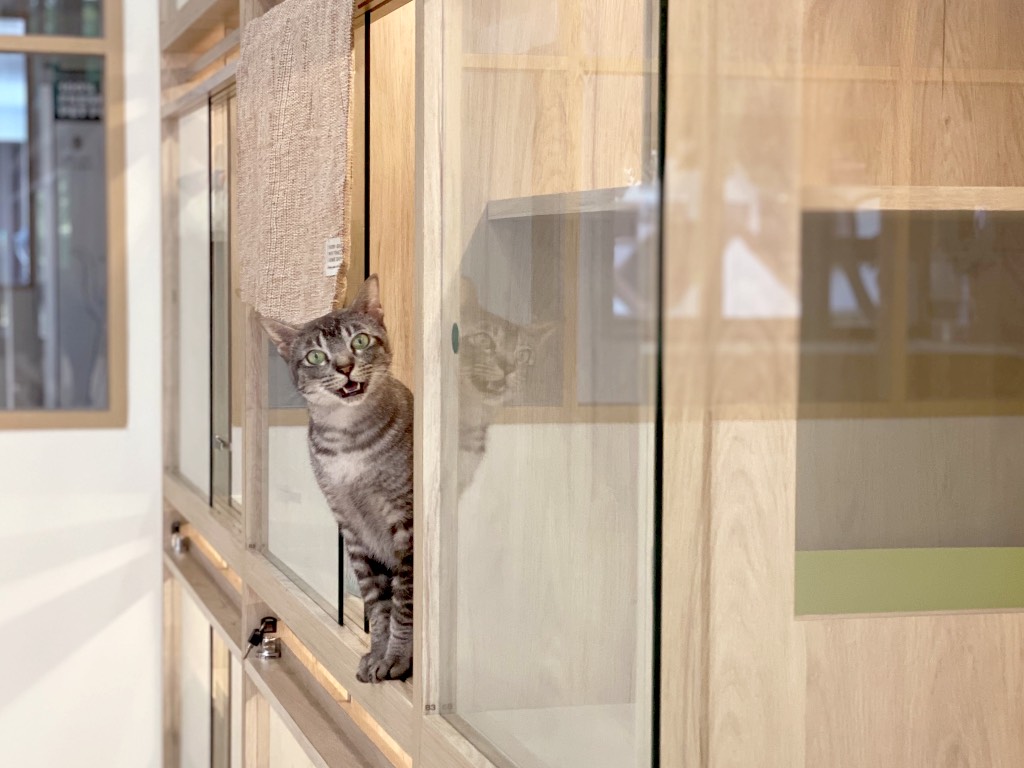 Certain things that we do to help new cats assimilate to their new, temporary homes include:
Providing professional care and watch over your cat
Private, hygienic cat lodging accommodations
Routine feeding and cleaning as and when required, and at least twice daily
Provide an open line of communication with owners
Daily personal time with each guest for play or relaxation
Preparing Your Cat for Boarding
While it's true that cat boarding is convenient and that your cat will be cared for in your absence, there are things that you should do prior to your cat's stay to ensure a happy and pleasant experience.
1. Try The Boarding Hotel Out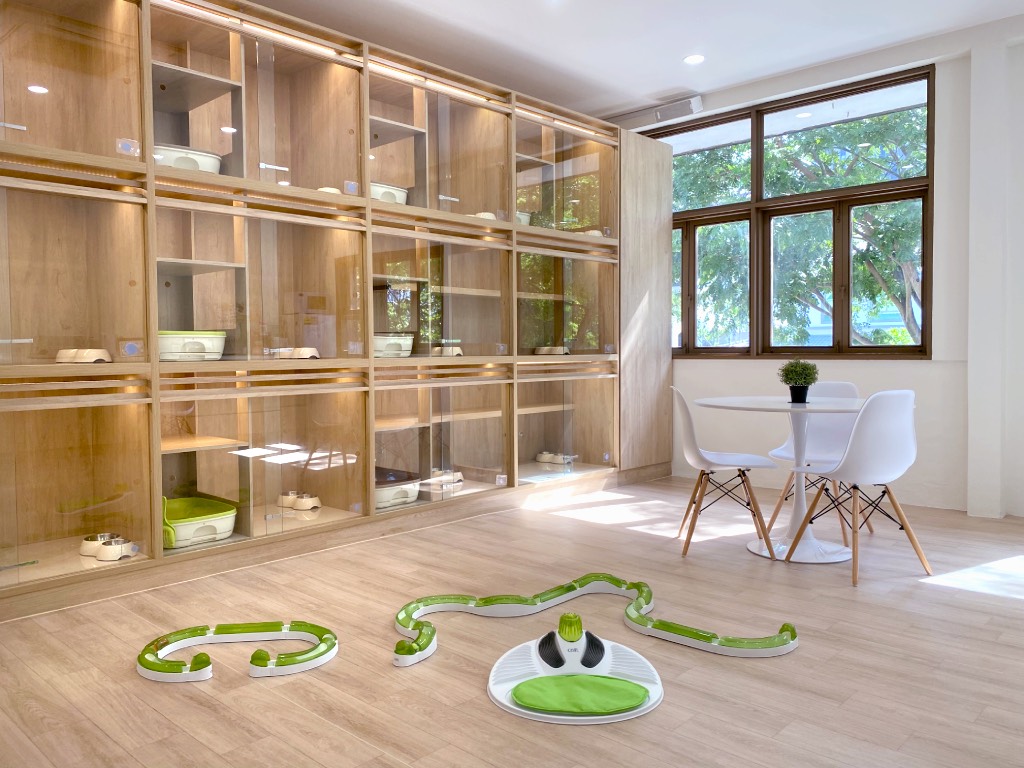 Many cats have never been out of their homes before, save for the occasional, already unpleasant vet visit. Prior to confirming a booking with a cat hotel of your choice, consider lodging your cat there for a few days prior to the actual stay, so they feel reintroduced to a familiar environment when the time comes.
Did You Know? The Nekoya Cat Hotel allows you to bring your cat for private viewings, to see how they enjoy our comfortable space. This saves you additional cost on sending your cat for a trial stay! Visiting the cat boarding facility before confirming your booking is highly recommended. This allows you to understand the facility's practice, meet their caretakers, and clarify what the boarding includes. Nekoya has a total of 3 outlets for you to choose from – King Albert Park, Central (Kampong Bahru) and Jalan Kayu. 
2. Book Your Accommodations Early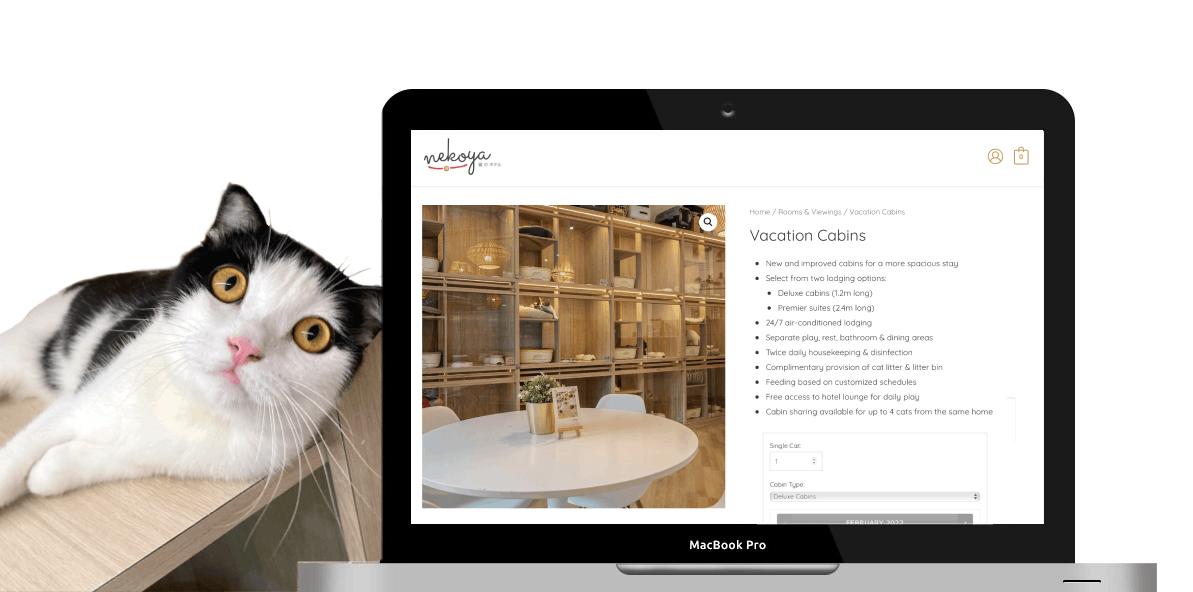 Ideally, your cat's lodging accommodations should be finalized and confirmed at least a week prior to its stay. Cat boarding hotels tend to fill up very quickly during peak travel periods, and may not be able to cater to last-minute bookings. Booking in advance also gives you ample time to prepare for your cat's stay, and ensure that the necessary measures are taken to ensure a healthy cat, and a happy stay.
3. Ensure The Cat is Sterilized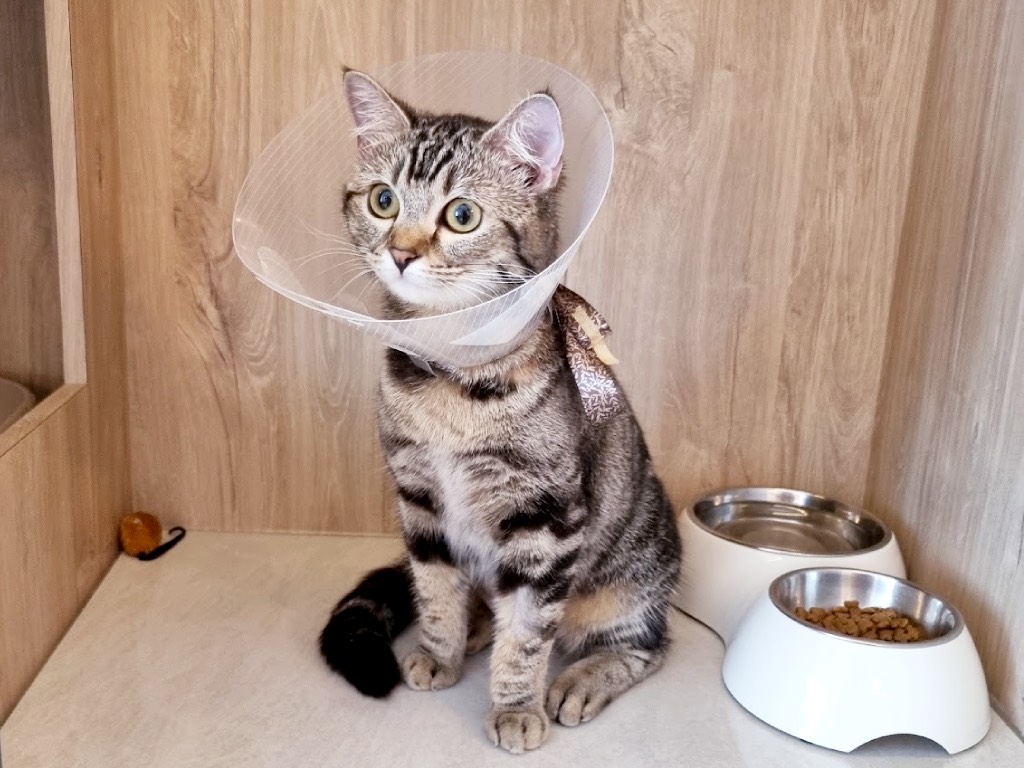 Another common requirement of cats when they are boarded is that they are sterilized if over the age of 8 months. While unsterilized cats do not pose any real danger, they can prove to be a nuisance through caterwauling, marking and initiating fights with other cats. This is stressful for your cat and their living space might be unsanitary should they choose to mark their territory by spraying.
4. Ensure Vaccinations are Up to Date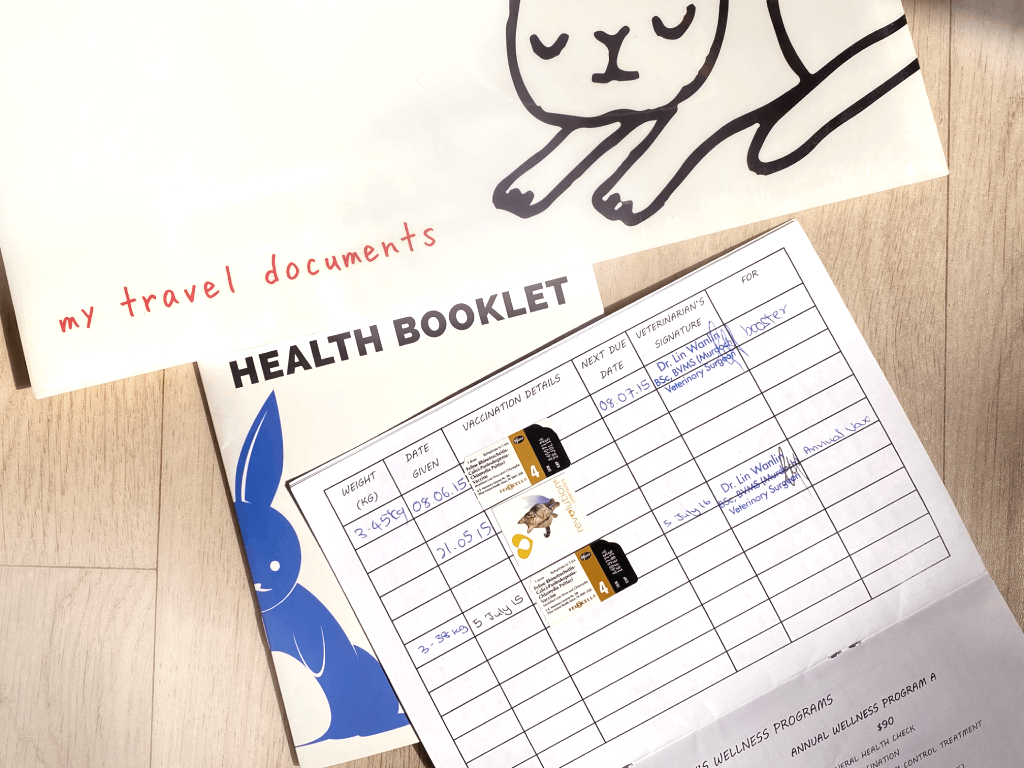 At least a week prior to boarding your cat, ensure that a vet visit is made. Most boarding facilities will ask that your cat is up to date on its vaccinations to ensure that it protected against deadly cat viruses. The most common vaccine for cats in Singapore is the FVCRP vaccination.
Some boarding facilities, such as the Nekoya Cat Hotel, are also happy to accept cats who have passed a titer test. Titer tests ensure that a sufficient level of antibodies to disease exists in your cat's body, and represent that your cat does not require a booster shot for its vaccination, for fear of over-vaccination.
5. Prepare Sufficient Food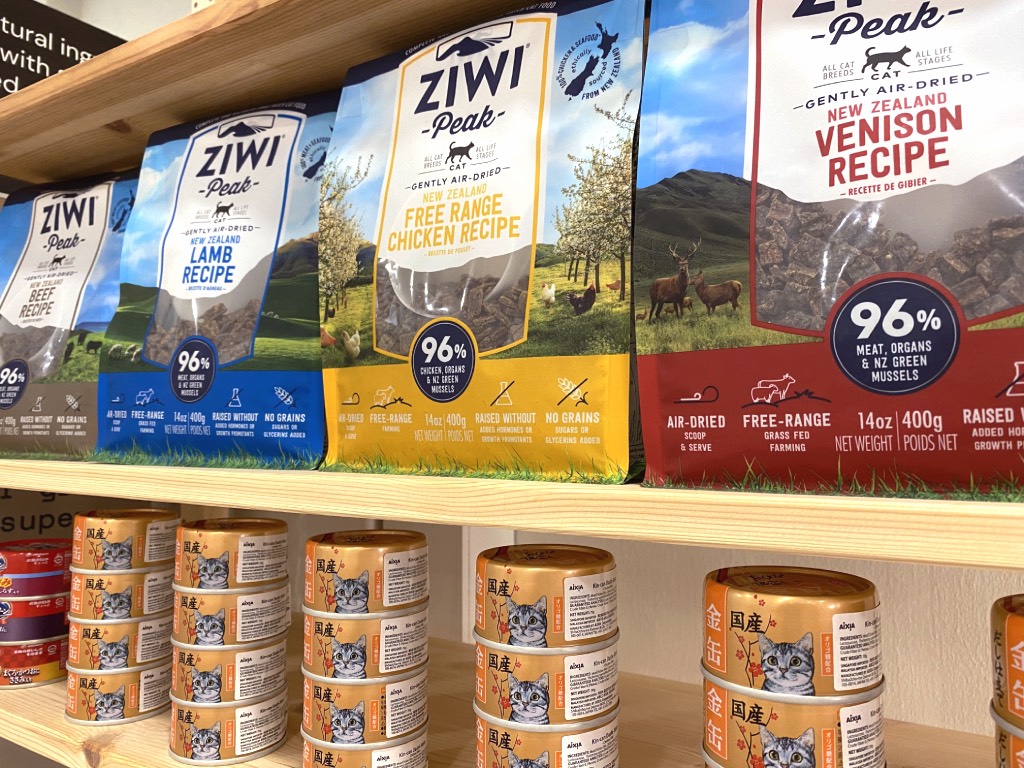 Prior to your cat's stay, take time to prepare its food supply. Remember not to make any dietary changes – Not only do you run the risk of your cat rejecting its meals, it also causes additional stress to your cat and can lead to intestinal upset through diarrhoea.
The mistake that many owners make is believing that providing us with the remainder of their cat's regular bag of cat food is sufficient. This may prove to be counterproductive when your cat's food runs out halfway throughout your trip. At the Nekoya cat hotel, we require that all cat owners dispense, label and bag each of their cat's meals. This ensures that we can properly maintain your cat's feeding schedule and portions, and will also give you a good gauge of whether your cat will have enough food for its stay.
Did You Know? If your cat runs out of food while boarding with us, you can make a purchase of your cat's supplies at our partnering online pet store, Nekojam in Singapore. Your cat's supplies will then be delivered straight to our hotel within 1-3 working days.
6. Pack Clean Toys, Blankets or Clothing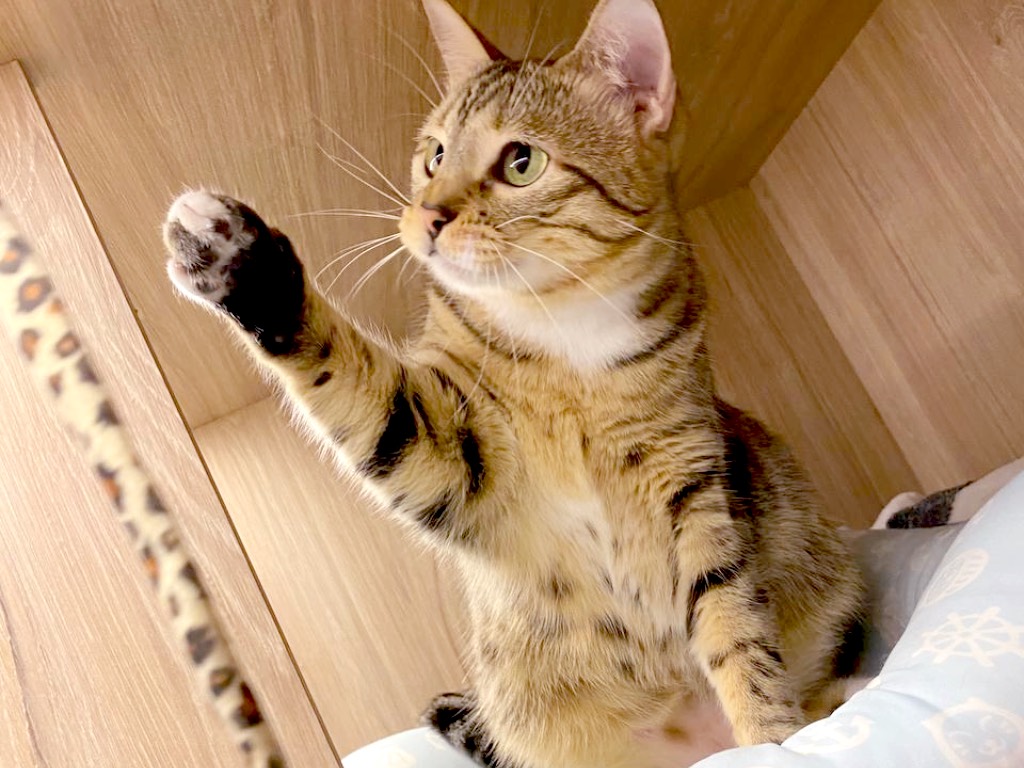 Since your cat will be in a new environment, it's important to try and help them feel at home. After paying a visit to your cat boarding hotel of choice, take some photos of the space in which your cat will be staying in. Provide your cat with some toys that it can play – Wand toys are preferred at the Nekoya cat hotel because that gives our cat whisperers a chance to interact with your cat in a positive setting. If your cat prefers not to be played with, we ask that you pack a brush instead that we can possibly use to groom them. Including a clean blanket or article of clothing is also essential. Not only does it help keep your cat warm, it also provides a reinforced sense of comfort from having your scent with them.
7. Provide Necessary Veterinary Records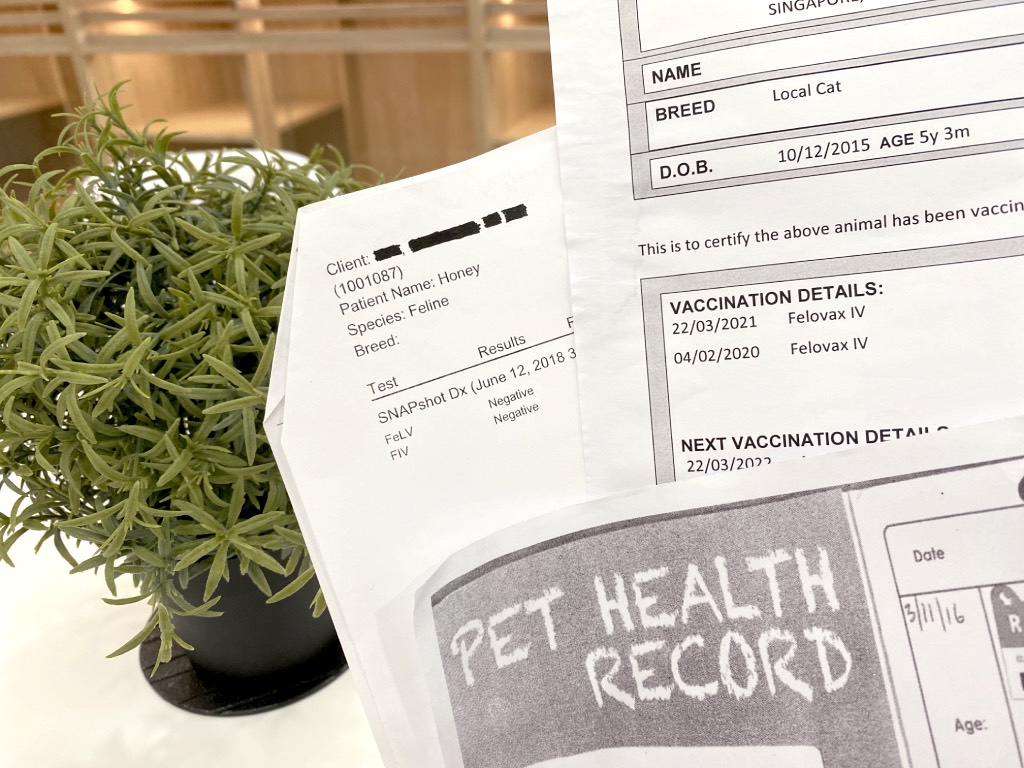 When dropping your cat off for boarding, remember to bring along its vaccination, sterilization and medical records. These documents are essential in helping your cat boarding facility of choice verify that your cat meets the pre-requisites for its stay. It will also allow the staff on duty to liaise with your regular veterinarian in the event that a visit is required, with full access to crucial information about your cat.